Sell Items You Own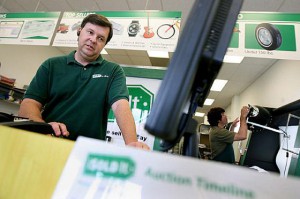 iSOLD It® stores always have things to sell, even the first day they open.
This is done through an exclusive arrangement to deliver overstock products to the iSOLD It stores. The overstock inventory originates at several of the nation's best known online and retail merchants. Stores receive inventory that includes returned items, open box and damaged box items, overstocks of inventories and end of lot items. This all is included in the initial opening package of new stores.
We call these products "owned items" because they belong to you so when sold all proceeds are yours, minus eBay and Pay Pal fees. This is an important sales boost for the start-up franchisee and later a consistent product source to rely on.
Sourcing owned items at very favorable prices is a unique and important ongoing strategy for iSOLD It Franchisees. Our proprietary product support continues as an option to purchase overstock items at low prices and resell online. Owned item sourcing program takes the pressure off expensive advertising to bring people in with their items. Further, the program insures there always will be products to sell that help with a consistent labor scheduling helping to keep talented staff.
The iSOLD It overstock sales business is designed to make online sales and customer support a stable and solid opportunity for making money doing what you enjoy.