Why Own an iSOLD It Franchise?
Why Own an iSOLD It® Franchise?
There's no greater joy than succeeding as the owner of your own business. You're not working for others and get to keep the rewards. The key is to realistically assess and avoid as many high risk decisions and practices as you can. We believe the iSOLD It Sales System is a good way to limit risk while participating in the online selling and buying phenomena. Our affordable eBay franchise opportunities are a way to be in business and have fun selling and working with people.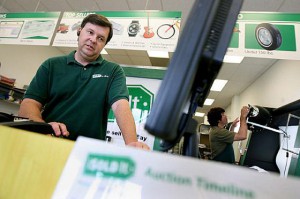 Our business is driven by skilled franchise owners. iSOLD It invests a great deal in training each new franchisee in compliance with the eBay, Amazon and Craig's List marketplaces. We teach how to in-take items, test them, list accurately and sell rapidly according to the iSOLD It Sales System™. We have modeled every aspect of the business from expected volume levels to cost factors to consumer behavior so Franchisees are able to develop their business. iSOLD It's business management system and training will help you reduce risk and provide you with a development plan
iSOLD It Franchisees earn income selling items for customers on a sales agreement and selling their own products. For sales agreement customers, the store charges a sales fee based on a percentage of the winning bid or sale price. Sales fees typically exceed 30%. The key aspect here is customer care at the counter, earning their trust, coaching sales expectations and limiting item in-take to those that sell profitably.
A growing aspect at iSOLD It stores is listing and selling "owned items." These are sales of products owned by the franchisee. Through an exclusive arrangement, iSOLD It supplies Franchisees with overstock products at very favorable wholesale cost. These products originate with well-known online and retail merchants. Owned item sales add revenues and stabilize a key aspect of the business: consistent work and income for talented staff.
Every new iSOLD It sales agreement and overstock sales franchise opens with a supply of overstock inventory able to list and sell the day they open. Come join our network and build a business!