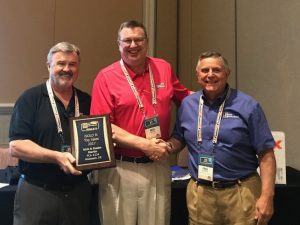 Rick and Susan Martin, owners of Postal Connections of Hockessin, were recently awarded for their sales prowess during the 2018 Postal Connections Annual Franchisee Conference in Orlando. The couple was recognized for having the top sales in 2017 for their store's iSOLD It® department.
"We are honored to receive this award from Postal Connections," said Rick. "Our business has allowed us to become even more involved in our community, and we are grateful to receive such encouragement, recognition and support from Postal Connections."
The Martins, who joined the Postal Connections family in 2014, have a history of success with their Postal Connections business, receiving the Rookie of the Year Award at the brand's last annual conference. Since the launch of their business, Susan and Rick have made their store a valued resource in the community and with local small businesses. To better serve the needs of the community the Martins decided that adding an iSoldit department to their wide array of service solutions would be ideal. Through this service the Martins are able to assist customers with selling their items for cash on eBay with ease.
"Rick and Susan are exactly the right entrepreneurs to receive this prestigious recognition. Their unparalleled commitment to their community and their staff has allowed them to create a successful and viable business," said Fred Morache, co-owner and CEO of iSOLD It. "We are looking forward to seeing their continued success in the years to come."
Rick's highest emphasis for his iSOLD It and Postal Connections business is delivering top-notch customer service. He believes in going above and beyond for every customer who then typically will spread the word and generate positive referrals.
Passionate, sales-driven entrepreneurs will especially enjoy the flexible business models that iSOLD It offers. Whether as an @Home business or as part of a Postal Connections store, an iSOLD It business helps drive new revenue through a unique and diverse concept.
Learn more about the iSOLD It franchising opportunity.