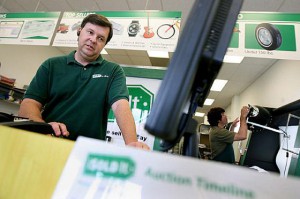 We know that it's the aspiration of many talented people to harness their entrepreneurial spirit and leap into business ownership. As you assess your goals for 2017, why put off your career goals any further? The time is now to explore franchising with iSOLD It!
At iSOLD It, our goal is to deliver a better value than other industry franchises at a lower cost to you, the business owner.
To this point, we offer two models that connect qualified entrepreneurs with consumers in need of eBay sales services. Both iSOLD It and iSOLD It @ Home are relatively low-cost franchises – an iSOLD It franchise fee is $21,900 and an iSOLD It @ Home franchise fee is $12,500.
Plus, for qualified veterans, the franchise fee for iSOLD It and iSOLD It @ Home is reduced by 25 percent.
iSOLD It pays close attention to cost control to ensure you begin your journey as a business owner on the right foot. This includes turnkey concepts, state-of-the-art start-up assistance with business planning, finance sourcing and site selection. We also provide, on-site training, ongoing operation guidance and support, flexible operation policies, start-up marketing, and public relations.
Click here to see the full comparison and determine whether an iSOLD It or iSOLD It @ Home is a good fit for you!