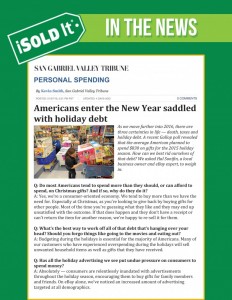 iSOLD It prides itself not only on providing a diverse set of services to members of the communities it serves, but also giving franchisees the opportunity to experience the joys of business ownership with a guided, proven system and the support of their community behind them.
Recently, iSOLD It franchisee Hal Sonifin was profiled in the San Gabriel Valley Tribune, where he shared his tips for avoiding holiday debt that carries over into the New Year.
iSOLD It franchisees are regularly sought out for their expertise in the small business and entrepreneurship trends and news of the day – in fact, all iSOLD It franchisees have access to multi-level public relations support to help get their names out there and bring customers in the door. This San Gabriel Valley Tribune article wasn't only read by the site's 122,000 unique monthly visitors – the story was also picked up by the Pasadena Star News and the Daily Breeze for a comprehensive local angle that brought wonderful attention to iSOLD It and to Hal's entrepreneurial opportunity.
Click here to read the full story in the San Gabriel Valley Tribune. For more information about the iSOLD It franchise opportunities, click here.