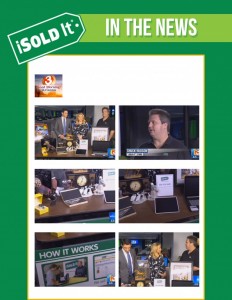 iSOLD It prides itself not only on giving franchisees the opportunity to experience the joys of business ownership with a guided, proven system and the support of their community behind them, but also providing a diverse set of services to
members of the communities it serves.
Recently, iSOLD It franchisee Chuck Hudson went on Good Morning Arizona to promote his store in Glendale, Arizona and to share some tips with viewers about how to turn household clutter into an easy paycheck.
"When you bring it in, we'll give you an idea of what similar items have sold for," said Hudson in the segment. "We can hold it, take the photos, write the description, sell it, and a few weeks later, there's a check in your mailbox."
iSOLD It franchisees are regularly sought out for their expertise in their markets for industry trends and news of the day – in fact, all iSOLD It franchisees have access to multi-level public relations support to help get their names out there and bring customers in the door.
Click here to see the segment on KTVK. For more information about the iSOLD It franchise opportunities, click here.