When you join iSOLD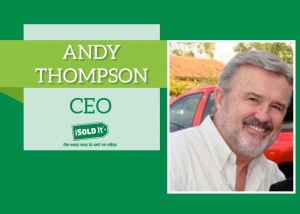 It®, you're aligning yourself with decades of franchising experience on all levels – not a day will go by where you don't feel completely supported across the board, with your ongoing achievement as the foremost goal.
CEO and co-owner Andy Thompson completely understands the winding journey to entrepreneurship. As one of the key executives behind Mail Boxes, Etc. (MBE), he helped guide the original "pack and ship" store and franchise concept to unprecedented success. And as a former franchisee himself, he gained invaluable knowledge and experience at the "ground floor" level, learning, essentially, what works — and what doesn't — in this ever-changing industry.
With this, and over 20 years of domestic and international franchise experience, designing systems for small business retail networks and training thousands of franchise owners and managers worldwide in business operations and management, Andy is one of iSOLD It's key point people when it comes to instructing and equipping new franchisees with the necessary tools to get their new business up and running.
Andy, alongside COO and co-owner Fred Morache, has had an integral part in establishing iSOLD It's impressive growth trajectory across the nation, bringing much-needed consumer support for selling on eBay, Amazon and Craigslist. The iSOLD It franchise opportunity offers qualified entrepreneurs the chance to own a home based business or a store that sells customer items for them and sells overstock goods owned by the franchisee. Andy's primary role as franchisor and CEO is to coach the franchisee community in planning their businesses and presenting the best ways to sell more while controlling overall costs.
For more information about iSOLD It franchise opportunities, click here.