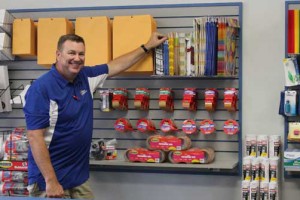 As part of the iSOLD It® on eBay system, one of our top priorities is the entrepreneurial success and satisfaction of our franchisees. We do everything we can to ensure that each franchisee with iSOLD It has access to the tools necessary to live out their dreams of business ownership to the fullest.
This is why we feel so passionately about setting our franchisees up for success. With access to marketing and public relations support as well as ongoing training and education, iSOLD It's team members have the unique opportunity to experience a truly turnkey business opportunity.
iSOLD It looks different for different people. Some opt for the traditional iSOLD It in-line retail location, while others operate the iSOLD It @ Home concept. The iSOLD It business formula is versatile which is seen where this concept has become a retail department within existing stores. This versatility is seen in Rick Martin's Postal Connections® packaging, shipping and business services store in Hockessin DE.
With a background in insurance and social services, Rick knew that he wanted to get into a franchising that services people's need for convenience and savvy, leading edge solutions for solving customers' tasks. Customer-focused, Rick's strategy involves building lasting relationships with customers, helping them with shipping, mail receiving service, printing and selling different items on eBay, Amazon and other online marketplaces. He sells a wide variety of items from books to valuable watches to computers. Most recently, Rick has sold unique, valuable bicycles like a $1200 tandem recumbent bike.
"The two concepts are so complementary – and having both streams of revenue in the same place allows me to keep my costs low while offering an increased variety of services," said Rick. "My focus is always on the customer, and they love having access to both sets of services under the same roof."
For more information about iSOLD It franchise opportunities and the flexible lifestyle its franchisees enjoy, click here.