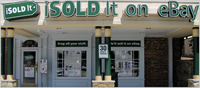 Owner:
Mike Hadad

Manager:
Brian Lord

Address:
12101 Darnestown Road, Gaithersburg, MD 20878

Phone:
301-990-2040
301-990-2045 Fax

Email:
info@isolditmd.com

Website:
www.isolditmd.com

Hours:
Mon-Sat 10am-6pm
Sun CLOSED
Follow Us!

Sing out loud in the car even, or especially, if it embarrasses your children.

Marilyn Penland

Most mothers are instinctive philosophers.

Harriet Beecher Stowe

No matter how old a mother is, she watches her middle-aged children for signs of improvement.

Florida Scott-Maxwell

| May 2014 | |
| --- | --- |
Standard out-of-pocket eBay/PayPal fees apply.
For offer-click on coupon to print and bring to store.
One coupon per customer. Only coupon offer shown above will be honored; no alterations or changed copies please.

Mother's Day Issue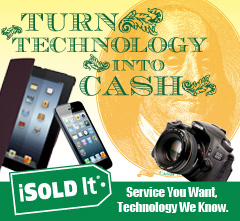 Those cameras, Smart Phones, iPods, Kindles and GPS devices can make you money by bringing them to your iSold It Store. To get the most cash from them, please do the following:

Bring Documentation: Increase the final price by bringing in the original packaging, manuals, instructions, receipts— anything at all that came with the item.

Tell Us the Story: Accurately describe the item. Buyers know that used items will be flawed and we must properly disclosed any issued in the listing. Information about the age of the product, where purchased and how much it was used are great to know.

Make It Shine: We'll take the picture but make sure you bring it in clean and shining so that the photo looks sharp!





Do you know someone that could benefit from our services? A very simple way to introduce them to iSold It is to click the Forward to a Friend button just below.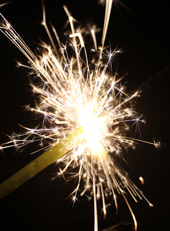 A man from Winnipeg in Manitoba, Canada, wrote about the way his mother loved sparklers. The way they sizzled and spewed shards of light held a fascination for his mother all of her life. She brought them to family gatherings and even broke them out on special occasions, whether sad or happy. The bursts of light removed the years from her face. They made everything all right for any problems she or her children might have.

Eventually, her health failed. When she passed, the brother and sister thoroughly cleaned out her apartment; vacuuming, packing clothes away, scrubbing every inch because that was what their mother would have desired.

When they finished, the place was so clean, all that remained were faint rectangles on the wall from removed pictures and shallow carpet indents from where furniture had been. On a whim, however, his sister decided to check the place one last time and went to the kitchen. Soon, she hollered out for her brother.

There in the bottom shelf of a cabinet (that earlier, had been wiped thoroughly clean), lay a lone sparkler.

They lit it on the balcony, watching the brilliant sparks dancing in the crisp air and basked in their mother's love one last time.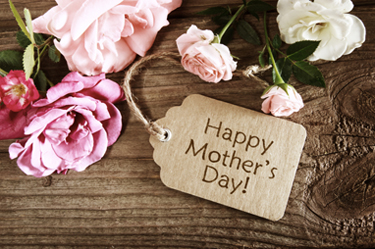 Following are ten facts related to Mothers:

In 2010: 47% of all women between the ages of 15 to 44 had no children; 20% had two; 17% had one; 10% had three and 5% had four or more children.
62 percent of women who had a birth in the past 12 months were in the labor force.
There were 5 million stay at home moms in married couple families in 2013.
There were 10 million single moms living with children 18 and younger in 2013
The most common birth month is July and the most common birthday is October 5th.
There are 105 boys born for every 100 girls.
Families in the middle income range will spend $242,070 to raise their child up to age 18 (not counting college).
The average pregnancy comes with a 30lb weight gain.
88 percent of laundry is done by moms.
There are 82 million moms in the US.